Video Link:
Amazing Polly
10 December 2019
Truth Trojan
@Amazing Polly I bumped into this one after browsing older Q-posts that linked to an older twitter post from Potus. Just following the money on this one and thus ran into a very recent post from this person… Eugene GU, MD https://twitter.com/eugenegu He just donated 10k $ to Naral, it's a "Pro Choice organization" …He got a telling thank you letter on December 3rd from Melissa Schwartz, the chief development officer at Naral.: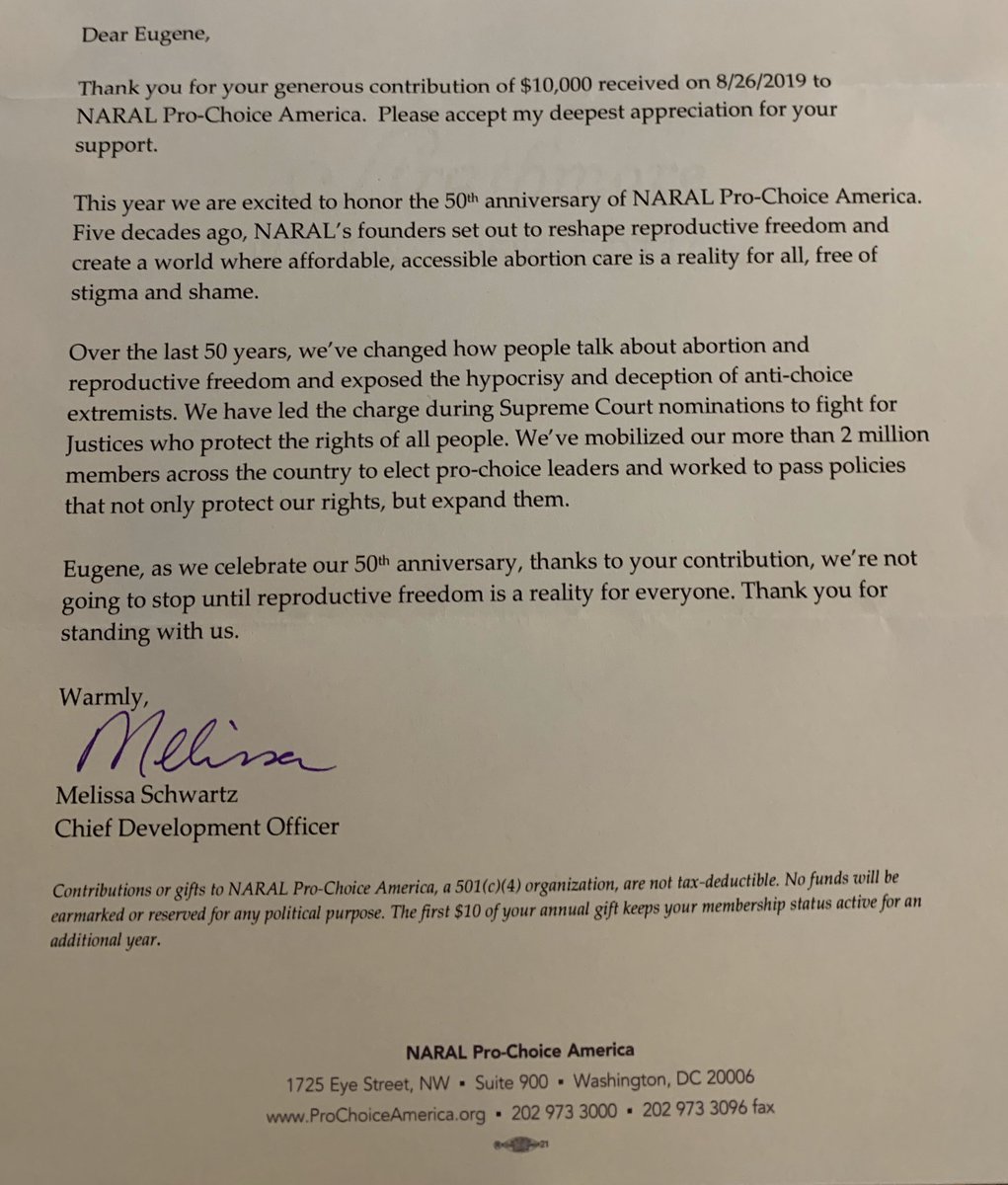 More on Melissa Schwartz: https://www.bromwichgroup.com/about-us/melissa-schwartz/ Melissa seems to be "a person of influence" in several fields including pushing legislation issues. Now on his twitter profile Eugene states to be a "Surgeon-scientist trying to save the lives of babies with congenital heart and kidney diseases. President and CEO of Ganogen. Hiring doctors for telemedicine." I find it interesting that he claims to be wanting to save lives of babies being a surgeon while donating to a pro choice organization and not even a little bit…freaking 10k he donated. https://www.prochoiceamerica.org/ Then taking into account that this dude has a serious chip on his shoulder in terms self esteem issues fed by frustrations from MSM. He clearly has some issues and and feels outdone by his white supremacist colleague physicians. He's a relentless anti Trump person who claims to not only hate Trump but his entire family. It may be interesting to note that Marsha Blackburn subpoena'd him awhile back: https://en.wikipedia.org/wiki/Marsha_Blackburn Also interesting is the folllowing: "In November 2019, #MoscowMarcia started trending on Twitter after Blackburn tweeted a conspiratorial smear against Lt. Col Alexander Vindman on her official twitter account.[50] In her post, she wrote "Vindictive Vindman is the "whistleblower's" handler". according the wikipedia. Of couse we know Marsha is a White hat and a Patriot! But that's exactly what makes this interesting. I dunno where this leads but I trust if there's something there, You'll find it Polly! They endorse people like Diane Feinstein who according to Q is an evil person https://www.bromwichgroup.com/about-us/melissa-schwartz/ Some people linked to Eugene GU via his twitter: https://twitter.com/AynRandPaulRyan https://twitter.com/RVAwonk https://twitter.com/DDoSecrets EDIT forgot his link: https://www.youtube.com/watch?v=tqmv9kU5KxI => Democratic checklist for change 2008 This link circles back to Diane Feinstein. Thank you for your devotion and time. Let's hope you get to read this before YT get's scrubbed. #WWG1WGA  (edited)
Northern Lights
Sandy Hook Elementary 19 of 27 Homes Purchased on Christmas!!!

John Tore
16 April 2019
Suzette Petillo
@THERESE Soros ran that whole Ukraine o.o. He n Putin are mortal enemies, n Soros used DNC COUP to pull a regime change in Ukraine, putting in his Nazi friends, n his antifa fighters napalmed the Ukraine police. It was a horror show Soros hopes to use in the USA soon.
Michael D
@Polly. Mossad on Q Mossad scared of declass. Every time I hear a crime scene with anti -Semitic manifesto = mossad. MSM said he wrote it the night before. I notice they do this tactic to drive a wedge in friendly relations and force our hands with others. Russia Assad Saudi Arabia… I noticed tons of trolls last few days slamming trump about That Jamal K dude. Again Mossad got him and blamed on MSB and trump. Same with those nerve agent attacks with that father and daughter . They blamed on Putin. Now it's very coincidental that the shooting was at a base named " pearl harbor ". It's a message. Stay safe. I think we're in control. But these spineless RATS will keep trying for another 911 style attack. Always them. Oh and strange the military police were not first on scene . These fuckers are sick.